November's Coming Feature Releases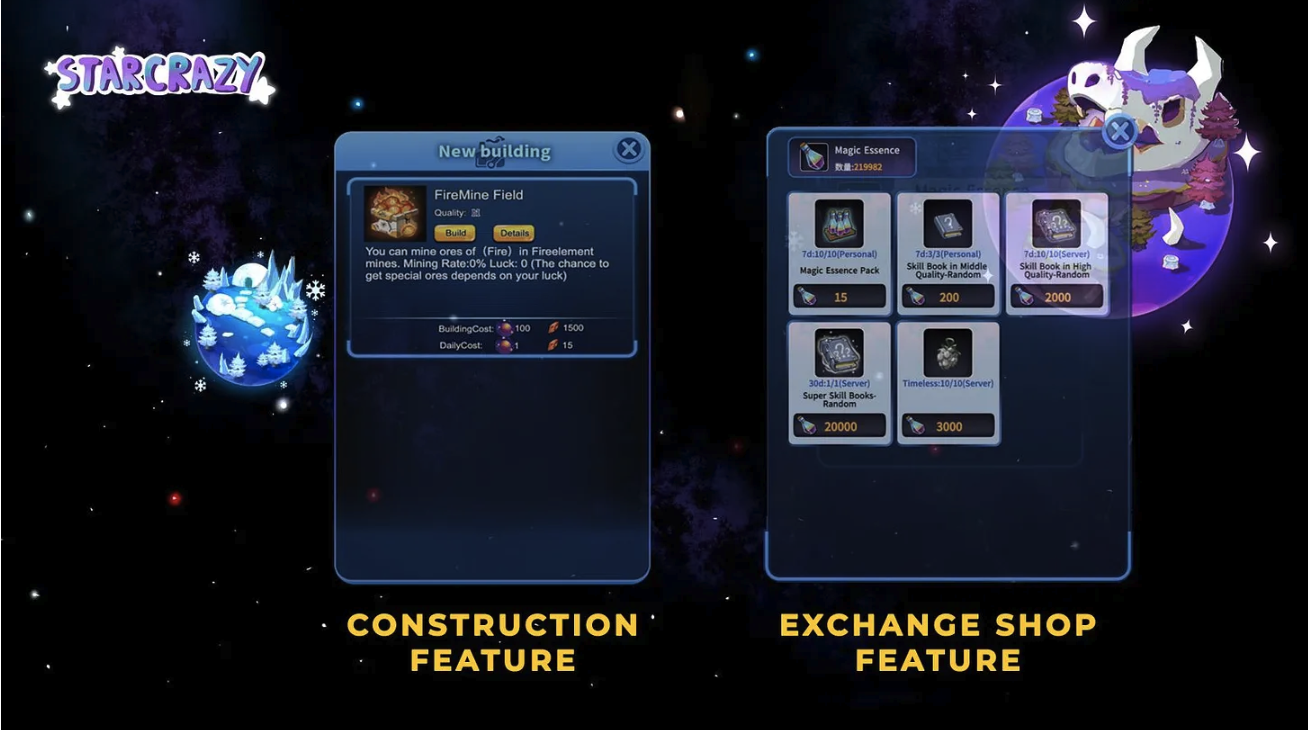 Hi StarCrazies!
We're pretty excited when a new feature rolls out and this rollout is no exception. Here's a sneak preview, using an example, of how it will work.
But first we need to let newcomers know, you can start playing StarCrazy today by downloading either MetaMask or ioPay wallets and then going to StarCrazy.com
Exchange Shop Update
The Exchange Shop will be released this weekend with the construction feature - you can exchange items won in PvE battling. All exchanges are based on Magic Essence and are done with the system. You trade one item to receive a different item from the system.
Skills to Learn in Upcoming Training Grounds
Let's say you have a Flame Skill. Skills are rated similarly to Starz rarity. Depending on the rating of the Skill, the skill will cause a fire damage of "X"% attack power of a Starz to an enemy.
R-quality skill will increase "Y" points above the original fire damage.
SR-quality skill will let you enjoy a "Z"% possibility to make the enemy burn, meaning it will suffer from a fire damage of "A" points for two rounds.
SSR-quality skill: the enemy will be burned for another round.
UR-quality skill: burning damages can overlap.
We think you get the general idea.
How can you improve your skills? The Exchange Shop guide will tell you all about what can be exchanged and the value of the various skills. ​​We'll provide a more rigorous guide with explanations very soon.
Did you read our blog on the past year's achievements?
When we wrote this it made us realize the fantastic things we've accomplished over the past year. Looking back, it all seems inevitable but when there's a blank sheet of paper in front of you it's far from certain the story will turn out well.
We will release the construction feature later this week - We think you'll really appreciate what this means to the game.

Did you know? There will be another shop, the Consignment Store, which will be tested internally next week. In this other shop you will be able to buy another player's game items just as you can buy Starz in the free market. Stay tuned for more on this!