The Metaverse is Coming! 100 Planets to be Auctioned on January 18th
The Metaverse is Coming! 100 Planets to be Auctioned on January 18th. Don't Look Up! The Planets Are Almost Overhead. They are arriving in 1 week!
Don't Look Up! The Planets Are Almost Overhead.
They are arriving in 1 week!
Looking through our telescope we see 100 Planets and they are the most beautiful things to ever bejewel the heavens. Grown men and a few observant dogs are weeping at the sight, even while they clutch handfuls of GFS in anticipation of a planet's arrival.
In fact, you can now choose which planet you like the most! We have the full list for you.
What's going on?
These 100 exquisite, one-of-a-kind, floating orbs, the planets, will be sold to the highest bidder on January 18th and here's how it's going to happen.
How The Planet Auction Will Be Conducted

On January 17th in the StarCrazy App you'll see a countdown clock telling you how much time remains before the Planet Auction begins.
On January 18 the Planets Auctions begin at 10:00am UTC +8 (2:00am UTC).
Here's a special treat! For the first time in StarCrazy history see:
Picture of each of the 100 planets
When each planet will be listed in the auction (in UTC time)
Name of each planet (Your planet? We'll know soon enough…)
Property of each planet. Is it a fire, water, rock, grass, food, or toxic planet?
Planet position in the StarCrazy universe
Description of each planet
As the auction progresses you'll see a display showing the number of remaining planets out of the original 100 until all 100 are sold. Planets can only be purchased using GFS.
During each part, a portion of the planets will be available for purchase. By the end of the day people will have had a chance to bid on the 100 planets in this auction.
All GFS from the planets' proceeds will be burned. This is because StarCrazy is a player owned game, and only players can own GFS!
Why Own Planets
Extra Income! Various Ways to Earn $
Host Tournaments and collect fees! Be your own boss. Throw your tournaments in StarCrazy and benefit from the participant & battle fees.
Hyper Fast! Faster traveling to Nomadic StarMines. (read more here)
Fight Better! Battle advantage for your planet-compatible Starz. Different factors will affect Starz when they battle. Learn more here.
One-of-a-kind NFTs: Each planet is unique and chooses its owner (or you chose it!). They are unique art objects people want to own.
Sell a planet on the market! After you acquire your NFT Planet, sell it any time.
Potential DAO benefits - Top Secret
Upgrade Your Planet - Top Secret
Here is a sneak peak of some planets up for auction: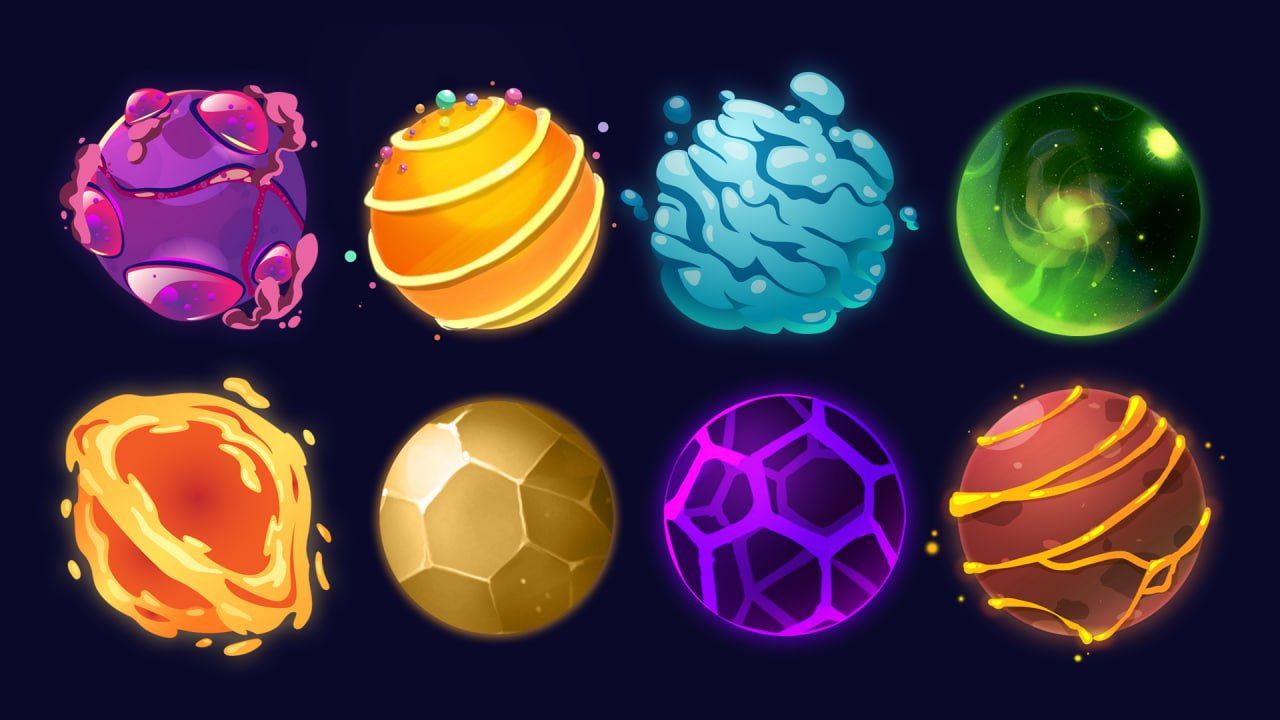 (Not to scale - Actual Planets are much bigger. Start living on one!)
Where does the auction take place? In game. Explore the link below for full times for each planet.
Don't delay! Check out this amazing group of 100 Planets then set a reminder to be there to buy your first planet.